Castello Eurialo
Castle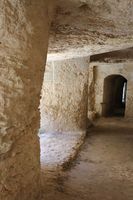 Cave system
Castello Eurialo
Fortress for the defence of ancient Syracuse
Epipolai was once the northernmost and largest area of ancient Syracuse. The city district, situated on a huge limestone plateau, was an important bastion against attacks from the interior and was secured with a 6 km long boundary wall and a castle, the Castello Eurialo, by the tyrant Dionysius I around 400 B.C. According to legend, Dionysius built the wall in just 20 days with more than 60,000 workers. You can reach the castle by car or bus number 11 from Riva della Posta.
Attractions in Castello Eurialo
The fort was built on an area of approximately 1.5 hectares and is one of the strongest Greek fortresses of Sicily. Archimedes also placed the burning mirror here, which he used to set fire to the sails of the attacking Roman fleet in 213/212 B.C. Directly from the car park you will reach the entrance of the castle. Over three trenches you will reach the main bastion, which was once protected by five massive towers. Troops could move unnoticed through the underground passages. From the castle you can enjoy a fantastic view of Syracuse and the surrounding coastal area.
Opening hours
Monday 9.00-17.00 |
Tuesday 9.00-17.00 |
Wednesday 9.00-17.00 |
Thursday 9.00-17.00 |
Friday 9.00-17.00 |
Saturday 9.00-17.00 |
Sunday 9.00-17.00 |