Santa Maria Maggiore
Church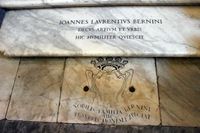 Tomb of Bernini
Santa Maria Maggiore
Largest St. Mary's church in Rome
The church of Santa Maria Maggiore was built in the 4th Century A.D. and is the largest St. Mary's Church in Rome. In the following centuries it was gradually expanded to its present size. The 75-metre high bell tower of 1377 is the highest bell tower in Rome. The main façade was added in 1750 by Fernando Fuga.
Santa Maria Maggiore is one of the four patriarchal basilicas (along with St. John Lateran, St. Peter's Basilica and San Paolo fuori le Mura) and at the same time one of the seven pilgrim churches of Rome. Moreover, it is the only church in Rome, where a daily mass has been held continuously since the 5th Century. According to legend, the basilica was founded due to a Marian apparition. The Madonna appeared on 5 August A.D. 352to Pope Liberius and the patrician John and told them to build a church in honour of her exactly at the point where snow would fall the next morning. The Festa della Madonna della Neve (the church festival of the Madonna of snow) still commemorates with white flowers during mass that memorable day in August.
Attractions in the church of Santa Maria Maggiore
The three-nave basilica, at 86 metres long, equipped with 36 marble and 4 granite columns, offers many treasures in its interior. The precious mosaics on the wall date from the high 4th and 5th Century and are the oldest preserved mosaics of Rome. The artful Cosmati floor dates from the 12th Century, the golden coffered ceiling by Giuliano da Sangallo was created in the 15th Century. In the Sistine Chapel in the right transept, Mannerist frescoes from the 16th Century can be found - in the opposite Pauline Chapel is an ornate altar with a statue of the Madonna "Salus Populi Romani", which - according to legend - was painted by St. Luke himself. The four porphyry columns supporting the canopy over the main altar are from the Villa Adriana in Tivoli. The display case in the Confessio allegedly houses relics from Bethlehem.
In the right aisle, at the height of the high altar, is the unassuming ground-tomb of the famous sculptor and architect Gian Lorenzo Bernini. A final highlight consists of the mosaics on the triumphal arch and in the apse. The biblical scenes from the Old and New Testament are among the highlights of Roman mosaic art. The impressive church is one of the most beautiful churches of Rome.