Pantheon
Church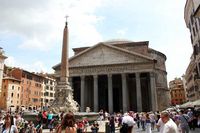 Monumental temple
Pantheon
Largest and best-preserved Roman temple in Rome
The Pantheon is the largest and the best preserved temple in Rome. It was built in 27 B.C. by Marcus Agrippa, the son of the Emperor Augustus, and was originally dedicated to the seven sacred planet gods. In A.D. 80 it was burned to the ground and rebuilt by the Emperor Hadrian in A.D. 125. Despite much damage and looting over the centuries, it still shines in the same form and splendour as in the time of ancient Rome. On 1st November 609, Pope Boniface IV consecrated the Pantheon for the Madonna and all the saints who are still revered today for All Saints.
Inside the Pantheon
You enter the Pantheon from the Piazza della Rotonda by a 33-metre high lobby with 16 Corinthian columns of pink-gray granite and two massive bronze doors. The inner hall has a diameter of 43 metres and 6.2 meters high brick walls hold the massive dome 43 metres above ground. The entire room is illuminated by a 9 metre diameter large opening in the middle of the huge dome. In the back of the Pantheon - not open to the public - are the sacristy and a chapel. The gigantic dimensions of this ancient building seem timeless and perfect. The unique design offers excellent acoustics, which you can experience by listening to the organ.
After the unification of Italy, the Pantheon became the Holy Sepulchre Church of the Italian kings. The second alcove on the right contains the remains of Victor Emmanuel II. Umberto I is buried in the second niche on the left. Other famous Italians also have their graves in the Pantheon - Raphael's grave is located between the second and third niche on the left.