Santa Maria del Popolo
Church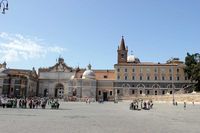 Church on the Piazza del Popolo
Santa Maria del Popolo
St. Mary's Church at the Piazza del Popolo
The church of Santa Maria del Popolo was built in the 15th Century instead of a small chapel from the 11th Century. After the previous church was funded by the community and the people, it got the name of the people - del Popolo. With its octagonal cupola, the bell tower and the magnificent Renaissance façade, it defines the beautiful Piazza. After its completion in the 16th Century, Augustinian monks took over the church - one of the most famous among them - Martin Luther - preached here just before the Reformation.
Attractions in the church of Santa Maria del Popolo
The three-nave church with its many-sided chapels, houses a number of tombs. In the choir there are two tombs by Andrea Sansovino for the Cardinals Ascanio Sforza and Girolamo Basso della Rovere. The first two chapels on the right side house the tombs of the pope's family, della Rovere, and of Cardinal Cibo. The second chapel in the left aisle was built according to plans by Raphael for the Chigi family and plays a crucial role in the famous novel by Dan Brown (Angels & Demons). The Cappella Cesari - also in the left aisle - houses two beautiful works of Antonio Caravaggio: "The Conversion of Saint Peter" and "The Crucifixion of St. Peter".