San Paolo fuori le Mura
Church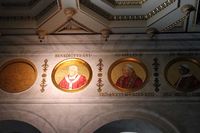 Pope portraits
San Paolo fuori le Mura
Patriarchal and pilgrimage church in Rome
San Paolo fuori le Mura is, next to St. Peter's Basilica, St. John Lateran and Santa Maria Maggiore, one of the four major basilicas in Rome and one of the seven pilgrim churches (Santa Croce in Gerusalemme, San Lorenzo fuori le Mura, San Sebastiano and the four major basilicas). Already by the 4th Century, the Emperor Constantine had built a Christian chapel at that place where St. Paul was beheaded, which was transformed into the present basilica in the 5th Century. Until the construction of St. Peter's Basilica in the 16th Century, San Paolo fuori le Mura incidentally was the largest church in the world. Damaged on multiple occasions by fires and earthquakes, it completely burned down on 15 July 1823 by the negligence of a plumber and took 30 years to be built again entirely from scratch.
Attractions in the Patriarchal basilica
If you enter the church from the front, you first have to cross a courtyard with porticoes before you enter the church through the Holy Door. The inside of the door is a bronze portal from Constantinople of the 11th Century. In the interior, no fewer than 80 columns support the five-nave room, which ends at the altar and the triumphal arch with a beautiful mosaic from the 5th Century. The absolute highlight is the 265 medallion portraits of all the Christian popes from Peter to the current Pope Benedict XVI. The papal altar in the centre is, similar to St. Peter's Basilica, located directly above the tomb of the apostle. The ciborium on the altar was created by Arnolfo di Cambio. Another attraction is the medieval Paschal candle of Nicolò di Angelo and Pietro Vassalletti. The mosaics in the adjoining Benedictine cloister were also created by the Vassalletti family in the 13th Century.