Galleria Nazionale d'Arte Antica
Gallery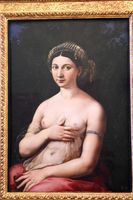 "Fornarina" by Raphael
Galleria Nazionale d'Arte Antica
National Gallery at Palazzo Barberini
The Palazzo Barberini was built by Pope Urban VIII from the Barberini family. The emblem of the Barberini family, the bee, can be found in many buildings of Rome. After breaking down many houses to make room for new buildings, a satirical verse quickly developed in Rome: What the barbarians have not destroyed, the Barberini have! (Quod non fecerunt barbari, fecerunt Barberin). The impressive and huge palace on the Piazza Barberini was started by Carlo Maderno in 1625 and completed by Borromini and Bernini in 1633. The centre of the palace is the two-story Salone, on whose ceiling the "Triumph of Divine Providence" by Pietro da Cortona is emblazoned. The architecture of the Palazzo Barberini was later adopted as a model for many other palaces in northern Italy and Rome.
The Galleria Nazionale d'Arte Antica
The Galleria Nazionale d'Arte Antica is spread over three floors in the Palazzo Barberini. The National Gallery of Ancient Art contains numerous works of art, which the Italian State has compiled of church collections and private collections after the unification in 1870. Among the main attractions of the gallery are Raphael's "Fornarina", the portrait of a baker and probably the beloved of the artist, the portrait of "Henry VIII" by Hans Hohlbein as well as the paintings "Narcissus" and "Judith beheading Holofernes" by Caravaggio and Bernini's self-portrait "David." Also of interest are the "Madonna and Child" by Filippo Lippi and the two altarpieces "Adoration of the Shepherds" and the "Baptism of Christ" by El Greco.
Opening hours
Monday | closed
Tuesday 8.30-19.30 |
Wednesday 8.30-19.30 |
Thursday 8.30-19.30 |
Friday 8.30-19.30 |
Saturday 8.30-19.30 |
Sunday 8.30-19.30 |