Frascati
Place of Interest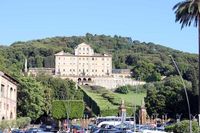 Villa Aldobrandini
Frascati
The largest city in the Castelli Romani
Frascati is the most famous city of the Castelli Romani. The small town owes its fame to the eponymous dry white wine that grows in the vineyards around it. But Frascati is worth visiting not only because of the fine wine grape juice. Numerous noble Roman families built luxurious villas with magnificent gardens in the 15th and 16th Century, which can still be admired here. Between the narrow medieval streets, the villas of the Aldobrandini, Torlonia, Falconieri, Tuscolana, Lancellotti and Sora families bear witness to the luxurious life of the Roman nobility. Unfortunately, none of these villas is accessible to visitors. Only the park of the Villa Aldobrandini is open to the public and offers besides a beautiful park a wonderful view of Rome's rooftops.
Attractions in Frascati
In addition to the villas, which can be seen everywhere in the city, Frascati also offers additional attractions. You should not miss a view of the Alban Hills from the panoramic terrace of the Piazzale Marconi Also worth seeing is the cathedral with a façade of Girolamo Fontana as well as fantastic, classical grave stones and epitaphs inside. In the adjacent Piazza Gesù you can find the Chiesa del Gesu. Of particular interest inside are the illusion paintings by Andrea Pozzo from the 17th Century. Behind the altar area the paintings give the impression of a large dome. Finally worth visiting is the church of Santa Maria in Vivario from the 9th Century. Inside the church are the remains of frescoes in the porch, which represent the Coronation of Mary. From the Piazza San Rocco on the left side of the church you can enjoy a wonderful view of Rome and the dome of St. Peter's Basilica.
Surroundings of Frascati
Visiting the ruins of Tusculum is a great way to get a glimpse of the surrounding nature. The ancient health resort was completely destroyed by Henry VI in 1191. The freely accessible ruins of the small town still provide the perfect setting for small walks with panoramic views of the sea.