Valpolicella
Undefinied sight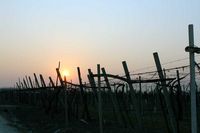 Vineyards in the sunset
Valpolicella
Famous wine region north of Verona
The Valpolicella, the valley of the many cellars, extends just north of Verona and offers a nice contrast to the densely populated urban area. Shortly after the city limits, the road goes up in several hairpin bends and winding roads into the hills of the Valpolicella where countless vines and fruit trees dominate the landscape. Many magnificent mansions and villas rise up among the vineyards and give the region an additional charm. Many of these magnificent villas are open to visitors – where you will have the chance to taste one or two drops of excellent wine. Even Dante Alighieri's descendants have settled in the Valpolicella. On the large estate of the Alighieris, the Villa Serego Alighieri, you can taste some wines and also spend the night.
The most famous wines of Valpolicella are the "Valpolicella" itself, the "Recioto" and the "Amarone". The name "Valpolicella" means valley of many cellars and owes its origins, of course, to the many wine cellars of the estates that are scattered throughout the valley.
Palladian Villa in the Valpolicella
Although it is an inconspicuously located village, the wine centre of Pedemonte northwest of Verona is an extraordinary sight. The Villa Serego Santa Sofia is the only Palladian villa in the Verona region. Unfortunately, the villa was never completed – the impressive two-tier portico with giant Ionic columns is nevertheless a fascinating sight. The villa is now restored and is part of the Santa Sofia winery. Interested parties should register with the host and, if you are lucky, you can take a closer look at the beautiful villa.
Giardino di Pojega in Negrar
Also northwest of Verona is the small wine-growing village of Negrar. It houses one of the biggest attractions of the Valpolicella – the Giardino di Pojega. The beautiful garden belonging to the villa Rizzardi by Luigi Trezza was built half in English, half in Italy style and is well worth visiting. The garden is can be viewed on Thursday and Saturday afternoon – visitors can taste and purchase the homemade wines.
Lombard-Romanesque church
Getting to the small village of San Giorgio di Valpolicella located on a hill in the west of the Valpolicella is not easy. From the church you have a wonderful view over the Valpolicella and Lake Garda. The Lombard-Romanesque church of San Giorgio from the 13th century is worth a visit. Inside the church there are remains of old frescoes, an octagonal baptistery and a Lombard column altar from the 8th century. The church's picturesque cloister is a fitting conclusion to the tour.