Opera in Verona
Opera festival at the Arena di Verona
An operatic experience in an incomparable setting. Music lovers and opera fans should not pass up the chance to see an opera in the Arena of Verona. The annual opera festival has taken place here since 1913, and more than half a million guests come to Verona every year to attend the spectacle. An alternating programme – an absolute highlight is Aida by Giuseppe Verdi – means that different operas are performed every evening. A highlight which you should not miss during your stay in Verona.

"Aida" by Verdi
Opera event in an ancient Roman setting
Whether opera lover, music lover or a simply a tourist in Verona – if you have the opportunity to attend an opera in the Arena of Verona, you should definitely do it. Whether down at the bottom in the stalls or high up on the stone tiers, you can overlook the gigantic stage and admire the spectacle. The Verona opera festival takes place rvery year from June to August. Almost every day, different and daily changing opera performances are shown which inspire young and old. The daily changing programme ensures that you can enjoy another famous opera every night. From "Aida" by Giuseppe Verdi to "Carmen", "Nabucco", "Turandot" and "Madame Butterfly" to "Romeo and Juliet" you can see the most famous operas in the world.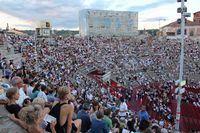 The ranks are filling up
A visit of the opera in Verona
Going to an opera in Verona is always highly recommended. Apart from some Saturdays it's usually possible to get tickets without reservation. Tickets can be purchased online from www.arena.it or picked up in the ticket office at Via Anfiteatro. The prices vary from 21 to 200 euros depending on the seat category and the day. The unnumbered seats on the stone tiers should be available for last-minute purchases on the same day in the morning. Bringing a seat pad with you is to be recommended. You should be at the arena about one hour before the performance starts to get a decent seat.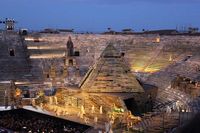 The show starts
Opera in Verona: The show starts
As soon as the sun sinks below the horizon in Verona, a sea of candles and lighters illuminate the arena. According to legend, this custom is a silent form of remembrance for fallen gladiators. But the real origin of this tradition was probably the lack of electric power at the beginning of the opera festival in 1913. However, as soon as the first performers enter the stage and the music starts, the lights go out and the show begins.