Romeo and Juliet
Love story in Verona
One of the best known and most tragic love stories, that of Romeo and Juliet, is set in medieval Verona. Although William Shakespeare, who wrote the story in 1597, never went to Verona himself he made city the centre of his story and gave Verona a legacy that can be perceived throughout the city even today. Loving couples and romantics from around the world visit the beautiful medieval city on the Adige river and walk in the footsteps of Romeo and Juliet.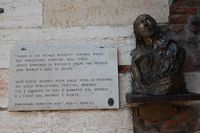 Shakespeare monument
The story of Romeo and Juliet
In 1597 William Shakespeare published "Romeo and Juliet", which was to become one of the most famous love stories in world literature. The story of Shakespeare's drama is set in Verona, where the two main protagonists, Romeo and Juliet, meet each other and indulge in their love. Both come from two different families, the Capulets and the Montagues, who are sworn enemies. So they decide to keep their love secret and are married by Friar Laurence. Despite all caution, one day Romeo is involved in a fight with Juliet's cousin Tybalt who he kills in a confrontation. Romeo is banished from Verona and flees to Mantua.
When her parents urge Juliet to marry, she asks Friar Laurence again for help, who gives her a sleeping potion that should fake her death. He explains his plan to Romeo in a letter, which never reaches him. Distraught over the alleged death of his beloved Juliet, Romeo returns to Verona and takes his own life at the open coffin of Juliet. Shortly after, Juliet wakes up from her sleep, sees what has happened and also takes her life. The two feuding families now recognise their complicity and reconcile at the grave of their children.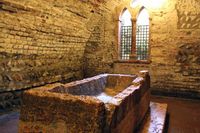 The grave of Juliet
In the footsteps of Romeo and Juliet in Verona
Verona's medieval old town is ideal for putting oneself in the situation of Romeo and Juliet. Many loving couples and tourists come here every year to walk in the footsteps of Romeo and Juliet. A photo of Juliet's famous balcony, a look at Romeo's house or some devotional minutes spent at Julia's grave. No matter where you look in the entire city, you will find loving couples everywhere who stick declarations of their love and their initials on small slips of paper to the walls or immortalise themselves on the walls or stones of houses – often illegally.
Although Shakespeare's drama never corresponded to reality, Verona conveys a really special charm especially to lovers so that they imagine they can feel the real story behind the literary work, almost as if Romeo and Juliet had really existed.