Journey to Verona
Verona – Cultural Heritage and City of Love
Although Shakespeare himself never made it to Verona, he made the city the literary home of the most famous lovers in the world: Romeo and Juliet. However, besides the famous love story, Verona is one of the most beautiful and most famous cities in Italy, which makes it well worth planning a trip. Verona and its medieval city centre with the huge Roman open-air arena, where operas are still performed, became a UNESCO World Heritage Site in 2000.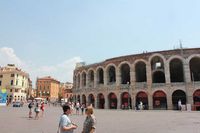 Arena di Verona
History, Culture and Romance in Verona
Wherever you look in Verona, history, culture and romance will meet on every corner of the city. Since becoming a city under the Romans, Verona has developed quite quickly into a thriving city with flourishing trade. The famous amphitheatre was built by the Romans and is still one of the main attractions of Verona. Every year, thousands of tourists and culture lovers come here to see one of the regular opera performances. Verona's city centre is still dotted with medieval buildings. The independent city was a member of the Lombard cities in the Middle Ages and prospered under the rule of the Scaligeri family to reach the height of its power. In the 15th century, Verona came under the rule of Milan and was finally occupied by the Venetians. Many treasures from this period can still be admired.
Visitors who want more can explore the city from a literary point of view and walk in the footsteps of one of the most tragic love stories – that of Romeo and Juliet. Although it is only a fictional story, you can admire the scenes of the love story in Verona and you will have enough opportunity for some romantic time together.
General information and practical advice for your trip to Verona
Verona is the gateway to Veneto for all who come via the Brenner Pass, Verona has 265,000 inhabitants and is the capital of the province of Verona. The city has been listed UNESCO World Heritage Site since 2000. Verona is a must for anyone planning a trip to Italy or Veneto. Whether you are drinking a coffee on Piazza Brà, attending an event in the ancient Roman arena or following in the footsteps of Romeo and Juliet – on ZAINOO you will find all the relevant information about attractions in Verona and lots of useful information for your stay. There's more than one reason to visit one of the most famous cities in Italy and in literature.