Soave
Place of Interest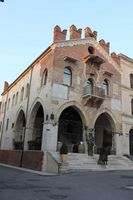 Medieval town hall
Soave
Origin of an excellent white wine
The beautiful wine village of Soave is surrounded by kilometres of vineyards. Soave has a very special medieval flair which you won't find in many other medieval cities. The centre is completely surrounded by a well-preserved city wall with many towers – an impressive Scaliger castle is enthroned on a hill above the city. Through small narrow streets you reach the Palazzo di Giustizia, which has a beautiful column loggia. From here you can climb up to the Scaliger castle, which is not as well preserved as the city walls. In the surviving part of the castle is a museum with historical armour and furniture. From the battlements of the defensive wall you have a beautiful view over the city and the surrounding vineyards.
Soave – an excellent white wine
The world-famous "Soave" (= soft) white wine matures in the surrounding vineyards. Soave has long been one of the most popular white wines in Italy. According to a legend, its name owes its origin to the famous poet Dante Alighieri. Despite its fame, the wine has fallen into disrepute in recent years. High demand induced many growers to produce greater, but significantly worse in terms of quality, quantities of wine. More and more growers are returning to the traditional wine growing process, which is a bit more expensive but results in more tasty wines. If you want to taste a really good wine, you will find one in Soave for sure.