Tregnago
Place of Interest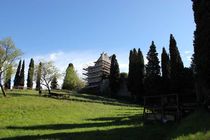 Castle
Tregnago
Small vinicultural village with Scaliger castle
The area around Tregnago was already populated during the times of Roman colonialization and remained an important strategic place for the rulers of Verona up into the 15th century. Among the fascinating sights in the village centre are Chiesa della Disciplina known for its art treasures – including beautiful 14th century frescoes by Giolfino and a relief made from white marble – and Villa Carlo Cipolla. The latter was built in the 16th century as the domicile of the noble Cipolla family. In recent years the villa became property of the winemaker Pieropan, who turned it into a site for events.
Scaliger castle
The medieval Scaliger castle, which can be reached from village centre after a 15-minute walk, rises high above the place. The castle lost a lot of its importance starting in the 15th century, but is being used again nowadays for medieval events and festivities. The annual Medievalia festival, which celebrates life in the Middle Ages with medieval games and festivities, takes place here in September.
Industry in Tregnago
After World War I an industrial centre developed in Tregnago as in many other places, too. The foundation of the cement plant Italcementi in 1922 played a major role in the region's boom preventing the population's emigration. In the 1960s the construction crisis lead to the closing of the plant. Today the old plant's ruins are renovated gradually and integrated into new projects. A new school was built here recently – the exquisite ice cream parlour "La Fabbrica" amidst the historical ruins is a grand culinary tip. The village today mainly lives on its numerous vines and winemakers.