Piazza delle Erbe
Square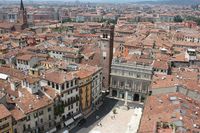 View from Torre dei Lamberti
Piazza delle Erbe
Lively heart of Verona
The Piazza delle Erbe has remained the vibrant heart of Verona. Many restaurants have their tables and chairs on the streets and market stalls, which offer mainly souvenirs but also fruits and vegetables, are set up in the middle of the square every day. The Piazza delle Erbe was also the central square in Roman times – the forum romanum – which played host to Verona's political, economic and social life.
Many magnificent buildings, including the baroque Palazzo Maffei and the Case dei Mazzanti with its beautiful frescoes inside, surround the square. The Torre del Gardello – a clock tower which was built in 1370 by the Scaliger Cansignorio – is located right next to the Palazzo Maffei. In 1421 a clock face was added to the bell tower to show the citizens the correct time. The winged lion in front of the Palazzo, the Colonia di San Marco, was erected by the Venetians and served as a symbol of Venice's might.
Other sights at the Piazza delle Erbe
In the middle of the square you can see a small raised canopy from the 16th century. It was here that the market surveillance, which had a good view over the square, was located. Anyone who was found guilty of cheating was chained to the Tribune and had to expose himself to the ridicule of the people. New laws and announcements were also published at the Tribuna.
An eye-catcher is the beautiful fountain "Fontana dei Madonna Verona". In the middle of the fountain is a Madonna sculpture with a banner that celebrates the beauty of Verona. Another remarkable sight is the Colonna del Mercato, a beautiful Gothic market column, which was built by Visconti in 1401. The bronze sculpture next to it depicts the Veronese poet Roberto Tiberio Barbarani (1872–1945)
At the southwest edge of the square, in front of the Torre dei Lamberti and the Palazzo del Commune, from which you have the best view over Verona, you can find the Casa dei Mercanti. The merchants house was built in 1301 by the lords of Verona, and with its crenelated façade it is still an eye-catcher at the Piazza delle Erbe.