PIazza dei Signori
Square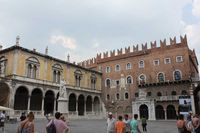 Dante Alghieri monument
Piazza dei Signori
Verona's centre of power
The Piazza dei Signori was the former centre of power in Verona. Around the beautiful square all important main buildings of the former city government, including the court and the seat of power of the Scaliger family, are located. A large statue by the famous Italian poet Dante Alighieri has dominated the square since 1865 and gave the square the nickname "Piazza Dante".
Loggia del Consiglio – the most magnificent building at the Piazza dei Signori
Diagonally opposite the Palazzo del Comune, on the other side of the square, you can see the Loggia del Consiglio – one of the square's most magnificent buildings. It was built in 1476 by Fra Giocondo and is a masterpiece of the Venetian Renaissance and unique in Verona. The beautiful façade with its columned double windows and statues on the roof shine through the pastel colours of the walls even more impressively. The statues of Alberto da Milano imitate famous Italians who are thought to have been born in Verona: Gaius Valerius Catullus, Pliny the Elder, Aemilius Macer, Marcus Vitruvius Pollio and Cornelius Nepos.
Palazzo del Podestà, Arco della Tortura and Casa della Pièta
To the left of the Loggia you will find the Casa della Pièta, a simple Renaissance building whose special feature is a bas-relief on the façade. It shows a seated woman with a flag – the symbol of the city of Verona during the rule of Venice.
The Palazzo del Podestà, also called Palazzo del Governo, right next to the Loggia del Consiglio was once the seat of power of the Scaliger family. Unfortunately, the magnificent frescoes by Giotto di Bondone no longer exist today – you can only see some fragments of the frescoes in the courtyard. The Arco della Tortura, so named because the torture instruments of the Veronese judges hung here, connects the Palazzo del Podestà with the Palazzo dei Tribunali.
Palazzo Tribunali and Palazzo dei Giudici
The Palazzo dei Tribunali (the court) is connected by an arch to the Palazzo del Comune and dates from 1575. The Porta Bombardiera, decorated with two cannons in the palace courtyard, is worth a visit. In the courtyard you will also find excavations of the Roman foundations with parts of a mosaic floor. The last palace is the Palazzo dei Giudici at the top end of the Piazza dei Signori. The court of Verona has been based here since 1731.