Piazza Brà
Square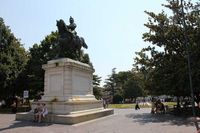 Main square of Verona
Piazza Brà
Main square and bustling centre of Verona
Verona's main square, the Piazza Brà, is one of the largest squares in Europe. It functions as a kind of arrival hall before you enter the centre of the city. The term "brà" derives originally from the German word "breit" (broad) and refers to the broad square in front of the city gates. Even today, the Piazza Brà is a beautiful and wide square in the heart of Verona with many open spaces and cosy street bars. Many historic buildings from various eras from ancient times to the present surround the square. From your coffee table in one of the bars you can thus enjoy 2,000 years of history at a glance.
Piazza Brà: 2,000 years of Veronese history
Restaurants, magnificent palaces and buildings dating back over 2,000 years surround the Piazza Brà in Verona. In the north, the impressive Roman amphitheatre rises high above the square. The Portoni del Brà archway and parts of the medieval city wall enclose the square to the south. Directly by the city walls you will see the neo-classical Palazzo Gran Guardia and the Museo Lapidario Maffeiano archaeological museum. To the southeast of the square is the Palazzo Municipale (also called Palazzo Barbieri), Verona's town hall, which was built in 1840 by the Austrians. From its steps you can enjoy great views over the Piazza Brà.
Attractions at the Piazza Brà
The promenade on the Piazza Brà itself is paved with pink marble from the Valpolicella region. The centre of the spacious square is dominated by an equestrian statue of the Italian King Vittorio Emanuele II (1820 – 1878). The statue of the first ruler of the united Italy was unveiled on 9th January 1883, the 5th anniversary of the death of the king.
The fountain in the park, the Fonatna delle Alpi or Münchner-Kindlbrunnen, was constructed on the occasion of Verona's twinning with Munich and was sponsored by the Germans. In return a statue of Juliet was erected at the Old Town Hall in Munich. The people of Verona often refer jokingly to the fountain as the "Lemon Squeezer" (struca limoni) because it looks like one with its shape. Also a result of the twinning is a memorial for the displaced Italians into German concentration camps, which is under the trees at Piazza Brà.
The Piazza Brà is still one of the busiest places in Verona with many nice restaurants and street cafes. If you have enough time, you should certainly stay here for a while and enjoy the impressions of this beautiful and historic place.