Colosseum
Amphitheater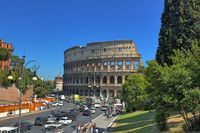 Landmark of Rome
Colloseo - the Colosseum
Rome's most famous amphitheatre
The monumental amphitheatre is the symbol of Rome par excellence. The Flavian theatre is the largest single building of the ancient world and a timeless masterpiece of Roman engineering that is unrivalled worldwide. It is therefore said in an ancient prophecy: "As long as the Colosseum stands, Rome also exists - if the Colosseum falls, Rome will fall too - when Rome falls, the world will fall." The Colosseum once had space for up to 73,000 people, who joined the gladiator battles and animal hunts as well as the execution and martyrdom of Christians. The latter is also the reason for the large bronze cross in the arena and the annual visit of the Pope.
History of the Colosseum
The Emperor Vespasian of the Flavian house built the Colosseum in A.D. 72 precisely at the place where the colossal statue of the Emperor Nero of his Golden Palace (Domus Aurea) stood. The name Colosseum is derived therefore directly from the colossal statue of Nero. Vespasian's son Titus eventually extended the Colosseum by the fourth floor and inaugurated it with a 100-day celebration ceremony in A.D. 80. The oval rotunda was 188 metres long, 156 metres wide, 50 metres high and offered space for up to 73,000 people to attend the numerous battles, performances and events. Noteworthy was the immense technical effort with which the demonstrations were held. The Imperial Navy spanned awnings over 240 masts to ensure an optimal view of the games - the architectural design also allowed the crowds to go to and from their seats in only a few minutes.
The auditorium itself was completely equipped with travertine marble. The old blocks can be found today in many churches and buildings across Rome, as it was only under Pope Pius VII at the beginning of the 19th Century that the mighty theatre was listed as an historical monument. With the collapse of the basement, which now allows for a view of the cages, locker rooms and training rooms of the gladiators, the gladiator battles ended and the Colosseum was left to decay.
Entrance
Combined ticket with Roman forum and Palatin: € 12,-
Opening hours
Monday 9.00-19.00 |
Tuesday 9.00-19.00 |
Wednesday 9.00-19.00 |
Thursday 9.00-19.00 |
Friday 9.00-19.00 |
Saturday 9.00-19.00 |
Sunday 9.00-19.00 |