Villa Farnesina
Villa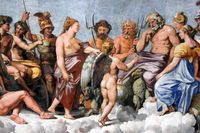 Amor and Psyche
Villa Farnesina
Magnificent Roman Renaissance villa
The Villa Farnesina was built in 1522 for Agostino Chigi, who was known at that time mainly because of his glittering parties. Popes, cardinals, princes and celebrities were guests here and wildly celebrated in the magnificent rooms which were richly decorated by artists such as Raphael, Sebastiano del Piombo and Sodoma. After the festive meal, board games and fake battles took place in the garden.
Attractions in the Villa Farnesina
The garden loggia is richly decorated with remarkable frescoes. The large ceiling fresco depicts the love story of Amor and Psyche, which was painted by Rafael in 1517. The highlight in the hall of the Galatea is also by Rafael. The work "Triumph of the nymph Galatea" was created here in 1511, in which Rafael immortalized the futile attempts of the cyclops Polyphemus to win over Galatea. Besides the perspective hall, with illusionist works by Baldassare Peruzzi, the bedroom of Agostino Chigi's is especially worth a visit. Sodoma painted here "The Marriage of Alexander the Great with Roxana," which not only reflects the triumph of love, but also gives the bedroom a certain erotic quality.