Trastevere
Public place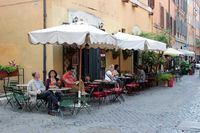 Cafés & Bars
Trastevere
Popular quarter in Rome
The Trastevere quarter is located across the Tiber (trans Tiberim = Trastevere) and has preserved the character of ancient Rome in its structure. Small, narrow streets, romantic squares, ancient religious buildings and busy streets as well as many fine restaurants. Where once the indigent and poor lived in Rome this district has recently become one of the tourist highlights in Rome. Especially in the evenings, the great atmosphere here makes a stroll through the narrow streets unique. Especially picturesque are the narrow dead-ends at the foot of Gianicolo hill.
Attractions in Trastevere
In addition to the charming streets of the old town, the medieval religious buildings of the district are worth a visit. Santa Maria in Trastevere, the oldest Marian church in the world, the Basilica of San Crisogono, San Francesco a Ripa and the Church of St. Cecilia. Here rest the bones of St. Cecilia, which were discovered in the Catacombs of St. Callixtus.