Tiber Island
Island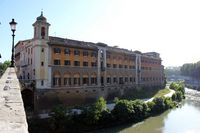 Isola Tiberina
The Tiber Island in Rome
According to legend, the Tiber Island was created by a heavily loaded ship that sank here - and actually the elongated island seems like a ship in the stream of the Tiber. In addition, the island was probably decorated with marble and in the pre-imperial time a huge obelisk stood in the middle of the island, which worked as a ship's mast. On the island, the Romans built a temple to the god of healing, Asclepius, and his sacred serpents, which was later replaced by a church.
Attractions on the Tiber Island
In the middle of the Tiber Island, the Emperor Otto III built the Church of San Bartolomeo in the 10th Century over the ruins of the temple of Asclepius. Martino Longhi the Younger restored it after a flood in the Baroque style. The beautiful Romanesque campanile still functions today as the ship's mast on the island. Noteworthy in the interior of the church is a beautifully decorated marble fountain from the 12th Century at the rising of the apse, which displays Christ, Otto III, St. Bartholomew and St. Adalbert.
The convenient location of the Tiber Island was perfect for a bridge construction. In 62 B.C. the consul Fabricius built the Ponte Fabricio, which is, to date, the oldest bridge in Rome. On the other side of the island, the Ponte Cestius, which was built by Lucius Cestius in 46 B.C., leads to Trastevere. A little down the river you can still see the remains of the Ponte Rotto ("Destroyed Bridge"), which had already been built in 179 B.C. The wooden structure with 142 stone arches was the first of its kind in Rome.