Santa Maria in Aracoeli
Church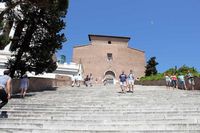 Church with "Ladder to Heaven"
Santa Maria in Aracoeli
Basilica in the centre of Rome
The church of Santa Maria in Aracoeli is located on the Capitol Hill. The Franciscan church was built in the 13th Century on the foundations of the temple of Juno Moneta and is impressive with its steep staircase, which was built in 1348. This so-called "ladder to heaven" consists of 124 steps and is traditionally climbed by Roman wedding couples on their wedding day. In the Middle Ages, the church was right in the political centre of Rome and was therefore also the meeting place of the Roman city parliament.
Attractions in the church of Santa Maria Aracoeli
After the victory over the Turks in the Battle of Lepanto, the interior of the church was revised. Ship icons on the magnificent wooden ceiling symbolise the important battle. In the first two chapels in the right aisle, the Cappella Bufalini and the Cappella di San Bernardino you can take a look at some beautiful frescoes from the 15th Century - two masterpieces by Bernardino Pinturicchio.
A small temple in the middle of the transept marks the point of the promise of the Sibyl, who announced the birth of a divine child to Augustus. The inscription on the arch ("Ecce Ara Primogeniti Dei" - See the altar of the first-born of God) is a reminder of this event. Under the triumphal arch rest the remains of St. Helena, the mother of the Emperor Constantine, who brought the relics of Jesus Christ from what is now Israel to Rome.