Piazza Navona
Square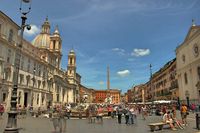 Famous city square
Piazza Navona
Busy square with Bernini's Fountain of the Rivers
The Piazza Navona is one of the busiest and most beautiful squares in Rome. The beautiful baroque composition of the square and the surrounding buildings, churches and houses let the piazza shine with its very own flair. Numerous musicians, street performers, portraitists and souvenir sellers of both the tourist and local variety spend their time here. Although the cafes around the square are expensive, the unique atmosphere still makes it an attractive spot for a short rest. Particularly famous are the chocolate truffle ice-cream at Caffè Tre Scalini and the film café La Dolce Vita in which filmmakers especially enjoy the atmosphere created by photos from Fellini's cult film.
The arrangement of buildings around the baroque square follows exactly that line that the Emperor Domitian had set for the construction of a new stadium. The Roman Stadium became a racecourse for horses in the Middle Ages and the Piazza Navona assumed its present day appearance only in the Baroque period thanks to the work of the architects Borromini and Bernini.
Fontana dei Fiumi - Bernini's famous Four Rivers fountain
The Fontana dei Fiumi, the Four Rivers Fountain by Bernini, is among the most famous and most beautiful fountains in Rome. Bernini was originally not invited to tender. Nevertheless, the sister in law of Pope Innocent X chose Bernini's design as the most impressive. In the water landscape of Bernini, which he completed in 1651, rocks rise from the fountain and they support an Egyptian obelisk. At the four corners are sitting the personalized statues of the then four largest known rivers: Nile, Ganges, Danube and Rio de la Plata. According to legend, Nile covered his head, because he could not bear the sight of the faulty construction of the Church of Saint Agnes, built by Bernini's bitter rival Borromini. In fact, the church façade was built only after the fountain and the veil is more of an indication that at that time the source of the Nile was not known.
The Moor fountain in front of the Palazzo Pamphili was built by Giovanni Antonio Mari according to a design by Bernini. The Neptune's Fountain in the northern part of the Piazza Navona was built in the 19th Century.