Ara Pacis Augustae
Archaeological site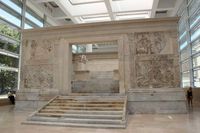 Stone altar
Ara Pacis Augustae
The Altar of Augustan Peace
After the assassination of Julius Caesar the Roman Empire was subjected to civil war for many years. Only Caesar's adopted son Augustus could restore peace again and the Augustan golden age began. In gratitude for his services, the Senate built the altar of the Augustan Peace on Campus Martius in honour of the emperor in 9 B.C. Because of its immense weight, the Altar sank in the following centuries in the soft ground beside the Tiber and was only discovered in the 16th Century and excavated and completely restored in the 20th Century.
Relief work on the monumental stone altar
The Altar of Augustan Peace is a masterpiece of Roman relief work. Many of the reliefs are still well preserved, reflecting the Roman Empire and the imperial family in all areas of life. The outer perimeter wall of the white marble altar is gorgeously decorated with ivy, bay leaves, wine and leaves. Allegorical and mythological reliefs adorn the narrow sides. It is with great artistic skill that some of the figures almost seem to pop out of the relief, while others are only hinted at in the way of background contours. To the right of the entrance is the hero Aeneas, who had landed in Rome after fleeing from Troy and on who founded the Julii family. The founding myth is displayed on the left side of the entrance. Romulus and Remus are suckled by the female wolf. Also visible are the shepherd Faustulus, who adopted the two, and their biological father, the god Mars. The long sides of the altar show members of the imperial family. Among them are Augustus and his wife Livia, Agrippa and Gaius Julius Caesar. Over 10 marble steps you will reach the inside of the altar itself, which is guarded by two lion sphinxes.
Opening hours
Monday | closed
Tuesday 9.00-19.00 |
Wednesday 9.00-19.00 |
Thursday 9.00-19.00 |
Friday 9.00-19.00 |
Saturday 9.00-19.00 |
Sunday 9.00-19.00 |