Santa Maria sopra Minerva
Church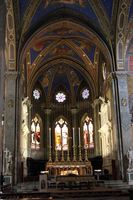 Altar area
Santa Maria sopra Minerva
Important Gothic church in Rome
The church of Santa Maria sopra Minerva was built over the ruins of the Roman Temple of Minerva. Started in 1280 and completed in 1453, it is the only important Gothic church in Rome. On the Piazza della Minerva in front of the church stands a statue of an elephant by Bernini from 1667. On it there is a small Egyptian obelisk from the 6th Century B.C. The inscription on the base says that great strength is required to bear wisdom.
Attractions in the church of Santa Maria sopra Minerva
Inside the three-nave pillar basilica are numerous tombs and ornately decorated side chapels. The most famous grave chapel, the Chapel of the Annunciation of St. Thomas is located in the transept at the right front wall. It contains the remains of Cardinal Oliviero Caraffa. It is famous mainly because of the frescoes by Filippino Lippi from the 15th Century, which represent the glory of the Mother of God and St. Thomas of Aquin. In the high altar the relics of St. Catherine of Siena are buried, who lobbied for the return of the papacy from Avignon to Rome. The statue of the risen Christ, on the left side of the high altar, was created by Michelangelo.