San Clemente
Church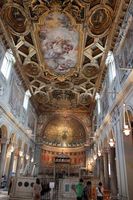 Interior
San Clemente
Early Christian church on Mithras sanctuary
The church of San Clemente was built in the 4th Century on the ruins of an old apartment building, under which a Mithras sanctuary has been located since the 2nd Century. It was dedicated to the third bishop in Rome after Peter, St. Clement. After the destruction of the church by the Normans in the 12th Century a basilica was constructed, whose ancient structures are still visible in the arrangement of the gate, courtyard, high altar, apse and in the superstructure of the church.
Attractions in San Clemente
Noteworthy works inside the church include the ancient columns and the valuable Cosmati works in the marble floor, the choir screen, in the tabernacle and the bishop's throne. Very interesting are the beautiful mosaics on the triumphal arch and in the apse - the biblical representations are among the most beautiful in Rome. It is worth seeing the representation of the 12 apostles as sheep moving towards the Lamb of God. In the St. Catherine's Chapel, the first chapel in the left aisle, there are beautiful Renaissance frescoes by Masolino from the 15th Century, which show scenes from the life of St. Catherine.
The Lower Church in San Clemente
The lower church is a three-aisled column basilica from the 4th Century. The Romanesque frescoes and an "Ascension of Christ" in the nave are worth seeing. Also noteworthy are the excavations of the Mithras sanctuary. The relief on the altar in the middle shows the Persian god of light, Mithras, who is killing a bull.