Museo Nazionale Romano
Museum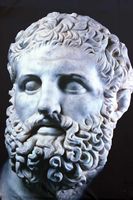 Roman art
Museo Nazionale Romano - National Museum of Rome
Roman Art in the Palazzo Massimo
The Museo Nazionale Romano was founded in 1889 just after the unification of Italy. Its holdings include more than 300,000 pieces of the early Roman period until the 5th Century A.D. The gigantic collection is split into several museums throughout the city. In the Palazzo Altemps parts of the famous Ludovisi collection are exhibited, the Terme Museum of the Baths of Diocletian contains numerous artefacts from the pre- and early history of Rome, the Palazzo Massimo outlines the history of Rome from the late Republic to the end of the imperial era and in the Aula Ottagona there are particularly beautiful and precious marble and bronze statues on display.
Palazzo Massimo alle Terme
The Palazzo Massimo was built in 1887 by Camillo Pistrucci for the Jesuit Massimiliano Massimo. It now houses a large part of the Roman National Museum - including Roman sculptures, mosaics, wall paintings and a coin collection from the Roman Republic to the late imperial period. The sculptures are predominantly Roman copies of Greek originals. The development of Roman art is especially noteworthy, which can be understood quite easily by admiring the numerous exhibits.
The highlights of the collection are the remains of a Roman calendar from the Villa of Nero and a portrait statue of the commander of Tivoli in room 1. It is also worth seeing the statue of Augustus and the altar of Ostia in room 5. Augustus is dressed as high priest (Pontifex Maximus) in a tunic with a perfect drape. On the altar of Ostia, the wedding of Mars, the divine father of Romulus, and Venus, the goddess of the Julio-Claudian family, is immortalized in a relief. The back shows the twins Romulus and Remus being suckled by a female wolf, surrounded by the personifications of the Tiber and the Palatine. Room 7 houses the famous statue of the daughter of Niobe, yet another highlight. As she falls she tries to remove the arrow of Artemis from her back. The other statues in the following rooms display the Apollo statue of Nero Villa in Anzio, the crouching Aphrodite from Hadrian's Villa and a muse sarcophagus with beautiful masks and muse portraits. The second floor houses some of the best preserved frescoes, mosaics and stucco works from the Roman period, which give a good impression of the luxurious life of the empire.
Opening hours
Monday 9.00-19.45 |
Tuesday 9.00-19.45 |
Wednesday 9.00-19.45 |
Thursday 9.00-19.45 |
Friday 9.00-19.45 |
Saturday 9.00-19.45 |
Sunday 9.00-19.45 |