Castelvecchio
Castle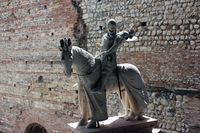 Cangrande I.
Castelvecchio
Fortress of the Scaliger
This large medieval brick castle was built in 1354 by the Scaliger Cangrande II and is one of Europe's most important art centres. An enclosure wall surrounds the castle battlements and its 6 towers. In the Middle Ages the outer wall was protected by a moat. Contrary to all speculation, the fortress was not built to defend against enemies from without but against the Veronese people who hated the dynasty of the Scala family. The City Palace at the Piazza dei Signori was abandoned and the noble family moved to the Castelvecchio. Ironically, the inward-looking fortress was finally conquered from without when the Milanese Visconti put an end to the rule of the Scaliger in Verona.
After the Lords of Verona, the Venetians, French and Austrians used the fortress before it was restored in 1923 and opened as a museum in 1925.
The Museo di Castelvecchio
You can reach the residence of the Scala family, which now houses the Museo Civico d'Arte, by crossing the courtyard. The museum houses one of the most important art collections in Europe. In room 1 the sarcophagus of St. Sergius and Bacchus from 1179 deserves special attention. Further highlights in the other rooms include the portrait of the child by Francesco Caroto (1480-1555), one of the most famous paintings in the museum, and the altar by Turine dei Maxio (1356-1387).
Numerous paintings from the Veronese and Venetian school can be found in room 14. Among these are paintings of Stefano di Verona ("Virgin and child"), Pisanello ("Madonna with the Quail"), Jacobo Bellini ("Madonna of Humility") and Andrea Mantega ("The Holy Family with St. Julia"). Another impressive piece is the original statue from the grave of Cangrande I from the Tombs of the Scaliger.
Given the wealth of exhibits to see, you should definitely take a few hours to visit the museum and the fortress properly. Visitors who are not so interested in art can walk around the courtyard of the castle and get a good impression of fortress's erstwhile might.
Opening hours
Monday 13:30 | 19:30
Tuesday 8:30 | 19:30
Wednesday 8:30 | 19:30
Thursday 8:30 | 19:30
Friday 8:30 | 19:30
Saturday 8:30 | 19:30
Sunday 8:30 | 19:30
Discounts
free admission with VeronaCard