Madonna dell'Orto
Church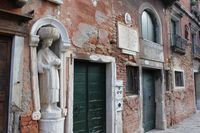 Casa di Tintoretto
Madonna dell'Orto
House church and burial place of Tintoretto
The Madonna dell'Orto church, also called Santa Maria dell'Orto, is located in the northeast of the city. Although rarely visited, it houses a few highlights for fans of Venetian painting and people interested in history and culture. The façade of the church – a mix of Gothic and Renaissance – is particularly noteworthy. The end of the façade is adorned by the sculptures of the twelve apostles.
Far more interesting than the exterior are the graves of Jacobo and Domenico Tintoretto to the right of the main altar. In the choir you can admire two works by Tintoretto himself: "Last Judgement" and "Adoration of the Golden Calf". Two more works can be admired above the entrance of St. Mark's chapel and in the fourth chapel to the left. A Madonna by Giovanni Bellini in the last chapel on the left is also quite remarkable.
If you cross the canal in front of the church, you will reach the Campo dei Mori, the square of the Moors. It was named after the merchant family Mastelli, who came from the Venetian Peloponnese. The merchants are eternalised by the Moor statues with turbans around the square. The house, which connects to the last statue, is the house of Tintoretto and was owned by the artist Jacobo Tintoretto. He died here on May 31 1594.
Opening hours
Monday 10:00-17:00 |
Tuesday 10:00-17:00 |
Wednesday 10:00-17:00 |
Thursday 10:00-17:00 |
Friday 10:00-17:00 |
Saturday 10:00-17:00 |
Sunday |
Discounts
free entrance with Chorus pass
Accessibility
Landing stage: Madonna dell'Orto