Travel to Venice
A visit to the lagoon city of Venice
No other city enjoys such worldwide fame as Venice only on account of its unique location. Directly on the water and distributed over more than 100 small islands, the city is located in the middle of the lagoon of Venice. Beautiful narrow streets, canals and an almost unchanged medieval city mark come together to create Venice's incomparable atmosphere. No less famous than the city itself is the world-famous Venetian carnival – a must for every visitor visiting the lagoon city in winter. But that's not all – on a trip to Venice, there is even more to discover.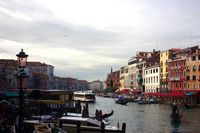 Canale Grande
Explore the Queen of the Adriatic
Out of poor settlements in the lagoon, Venice developed in less than 500 years to become an impressive trading power in the Mediterranean region. Besides the Venetian hinterland, the Croatian coastline was under the influence of the Queen of the Adriatic Sea, and even Greece and Cyprus once belonged to the Venetian empire. Thanks to its exposed location on the water, the city was able to expand only slightly in recent centuries, and so it still shines in almost unaltered medieval splendour. Those wanting to get from one place to another in Venice can either go by foot crossing countless bridges or go by boat – there are no roads or cars here. Thanks to its idyllic canals, gondolas and romantic alleyways, Venice is often thought of as the city of love.
General information and practical info for your trip to Venice
Venice is the capital of the province of Veneto and is certainly one of the most beautiful and interesting cities in the world. Those who do not know Venice are missing out on an important piece of Italy – one more good reason to include the lagoon city in your own travel plans. Whether a romantic gondola ride, a walk through the narrow streets and canals or a cappuccino in St. Mark's Square – on ZAINOO you will find all relevant information about these attractions and lots of useful information for your stay. It doesn't matter how much time you have – you should definitely make sure you have seen Venice.