Roads in Venice
By boat and gondola through the lagoon city
Venice alone consists of more than 100 individual islands and a network of over 170 water channels. In addition, there are the larger and smaller islands of the lagoon around. With the exception of Lido and the access road to the port of Venice, they all have one thing in common – they are not accessible by car. So only the narrow streets, bridges and numerous water routes are left to get from one place to another. For the inhabitants of the lagoon it is often difficult to move in the city, but for the many tourists, however, this proves to be a welcome break from the norm. Gondolas, water taxis, ferries and all kinds of boats move every day through the lagoon city and create a lively traffic.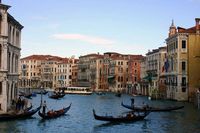 Boat traffic on Canal Grande
Roads in the lagoon city
The city of Venice is built on more than 100 individual islands. While there is only one main road and two proper side streets, 170 canals run through the lagoon city. The rest are small alleys, bridges and narrow paths. You can reach Venice by car via the Ponte della Libertà. But you won't get far. At best, you will reach the port of Venice, and if you don't find any space in the car parks, you will have to go back to the mainland. With the exception of Lido, there are no cars on the other islands. So your feet or the boats remain the only means of transportation – and there are plenty of them in Venice and the lagoon.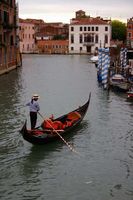 Gondola
Travelling on the water
Around Venice, on the Canal Grande and the surrounding islands, boat docks are lined up just like bus stops. The various shipping lines stop here every minute and take guests and inhabitants along a particular route. The system is simple and straightforward. The best thing to do is to purchase the correct ticket once you have arrived at the station so you can use the means of transportation in the lagoon for the booked time free of charge. Considerably more expensive, but more flexible, are the water taxis that bring you fast and directly to where you want to go. If you prefer to travel on the water more comfortably, you can choose one of the many famous Venetian gondolas, which are found in all major areas waiting for enthusiastic tourists.
An idyll and beauty that is rarely appreciated by the locals. Apart from permanent flooding, it is not that easy for them to go about their everyday lives in Venice. All goods and commodities must get to them by water. There are no trucks or vans to transport furniture or supply the shops; waste collection, postal services, ambulance services – everything takes place on the water.