City tour in Venice
Visit the most beautiful places in Venice with ZAINOO
No matter whether you have only one day in Venice at your disposal for a city tour, are spending a weekend in the city or are staying for several days – ZAINOO has the right programme for each visitor to Venice. From the picturesque canals and streets to the numerous churches, palaces and museums to the St. Mark's Square including the Doge's Palace, Campanile and St. Mark's Basilica: none of the major attractions will be missed – valuable works of art, adventure stories and lots of picturesque places included.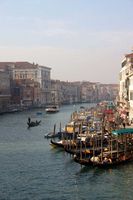 Canal Grande
Experience the most beautiful spots in Venice
Venice is already a landmark in itself. However, it has a variety of attractions to offer its visitors that cannot be visited even when staying a whole week. Historic buildings, valuable paintings and lots of interesting places from various eras and topics areas are waiting to be explored during a city tour in Venice. It is above all the picturesque old town around the Piazza San Marco and the Grand Canal which constitutes the city's magical centre of attraction. If you are looking for a special trip in a unique ambiance, then your search ends here. Furthermore, the many churches, historic buildings and islands will also inspire visitors.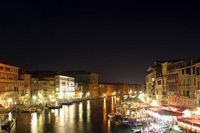 Venice at night
In the footsteps of Venetian painters and Doges
Venice's fortunes have always been determined not by one man, but by whole families. The rich merchant families held key positions in state and elected the Doge from their ranks. No wonder they tried to surpass each other by building more and more glorious and prestigious palaces – a situation that was particularly to the advantage of the famous and gifted Venetian painters and artists. Masters such as Veronese, Tiepolo, Tintoretto, Titian, Palladio and Coducci had plenty of work and designed the magnificent image of Venice – inside as well as outside.
Art lovers therefore have a full programme ahead of them in Venice and can admire one work of art after the other, walking from church to church, palace to palace and visiting the many galleries.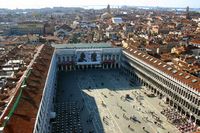 St. Mark's Square
ZAINOO city tour of Venice
Of course, you should not miss any of these many attractions, islands and highlights. No matter how long you have planned to stay in Venice, with its tour suggestions ZAINOO makes sure that you will not miss any of the main attractions. Whether a short trip and city tour of Venice, a weekend or even several days, the tours suggested by ZAINOO lead to the most important squares; thanks to numerous tips and lots of information you will also be able to take a look at the places in Venice which are away from the main tourist routes.