San Giorgio Maggiore
Church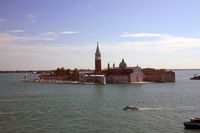 Church island in front of Venice
San Giorgio Maggiore
Beautiful church island in the lagoon
If you look at it from St. Mark's Square, it seems it belongs to the cityscape almost like the St. Mark's Basilica and the Doge's Palace – the Isola di San Giorgio Maggiore with its magnificent church. Together with the picturesque church of San Giorgio Maggiore, the Campanile is a unique eye-catcher in the middle of the lagoon, directly in front of Venice. As early as the 10th century, Benedictine monks founded a monastery and a church on the island. At the end of the 16th century the famous architect Andrea Palladio designed the plans for San Giorgio Maggiore – a temple-like church with colossal columns in the entrance area. Palaldio didn't live to see the completion of the church.
Attractions in the interior of San Maggiore Maggiore
The three-nave interior is entirely dominated by the style of the Renaissance and Palladio's masterly building style. Therefore columns, pillars and pilasters dominate the appearance of the Roman-style church building. An absolute eye-catcher in the interior is the beautiful high altar by Girolamo Compagna. The side walls of the presbytery are adorned by two great works by Tintoretto – "Last Supper" and "Manna rain". The magnificent choir stalls are decorated with scenes from the life of St. Benedict.
Benedictine abbey and Campanile
The 60 metre-high campanile was originally part of the former church of the Benedictines. In 1470, it collapsed and was rebuilt in 1791 in the style of St. Mark's tower. From the top of the tower you have a magnificent view over Venice and its lagoon.
The former Benedictine monastery is now home to the cultural foundation "Fondazione Cini" and is the venue for numerous exhibitions. Construction of the rear of the two cloisters was begun by Andrea Palladio and completed by Baldassare Longhena. On the front wall of the refectory you can admire a masterpiece by Veronese, the 10 metre by 7 metre-large "Wedding at Cana". The painting on display here is only a perfect copy. The original was brought to Paris by Napoleon in 1797 where it is now exhibited in the Louvre. In the Teatro Verde, an amphitheatre in the monastery park, plays and concerts take place regularly.
Opening hours
Monday 9:30-12:30 | 14:30-18:00
Tuesday 9:30-12:30 | 14:30-18:00
Wednesday 9:30-12:30 | 14:30-18:00
Thursday 9:30-12:30 | 14:30-18:00
Friday 9:30-12:30 | 14:30-18:00
Saturday 9:30-12:30 | 14:30-18:00
Sunday 9:30-12:30 | 14:30-18:00
Accessibility
Landing stage: San Giorgio