La Guidecca
Place of Interest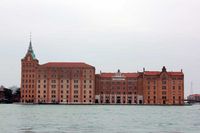 Pasta factory of Giovanni Stucky
La Giudecca
Venice's front garden
La Giudecca actually consists of 8 islands connected by bridges. It was named probably after the condemned (Giudicati), who were banished here from the 9th century on. Gradually, wealthy merchants also discovered the advantages of the barrier island. Between the 14th and 19th century magnificent mansions and villas were therefore built that one would not expect to find behind high walls when viewed from Venice. However, they are open with spacious and beautiful parks and gardens stretching down to the sea.
Sightseeing on Giudecca
The main attraction on La Giudecca is undoubtedly the Palladian Church of the Redeemer – Il Redentore. The church Le Zitelle on the eastern tip of the island is also based on the plans of the famous architect. At the other end of the island, in the west, you will find the church Sant'Eufemia. It was dedicated to the Roman martyr Euphemia and houses a beautiful triptych by Bartolomeo Vivarini. A few steps further at the end of the island rises the massive complex of Molino Stucky. The former pasta factory of Giovanni Stucky was converted into a modern hotel and congress centre (Hilton Molino Stucky) in 2007.
Accessibility
Landing stage: Redentore, Zitelle, Palanca and Sant'Eufemia