Rialto Bridge
Bridge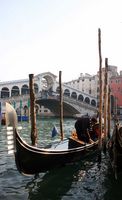 View from Canale Grande
Rialto Bridge
Venice's spawning ground and business centre
The Rialto Bridge is not only one of the most famous landmarks of Venice but next to the Piazza San Marco one of the most important and central parts of the city. Here at "Rivus altus" (=high river) the first fishermen settled in the 9th century and founded today's city of Venice. The existence of a wooden bridge that spanned the Grand Canal from 1180 onwards has been documented. In 1444 the bridge collapsed under the weight of many thousands of spectators of a boat procession. Today's stone bridge dates from 1591. The Rialto Bridge was the only bridge over the Canale Grande for a long time. In 1854 with the Academy bridge a second bridge was erected, followed by a third bridge near the station in the 20th century.
The Rialto Bridge
Antonio da Ponte won a competition between well-known architects in 1588 and made his plans for the Rialto Bridge a reality after three years of construction. 6,000 oak piles per bank are the foundation for the huge pillars which carry the mighty arch of the Rialto Bridge. With a wingspan of 48 metres and a vertical clearance of 7.5 metres, it is an impressive example of Venetian architecture. Three-foot paths that are separated by two rows of leather, jewellery and souvenir shops lead over the impressive bridge. From the bridge you have splendid views of the Grand Canal and the vibrant life around.
Rialto as commercial and business centre
Rialto was not only the beginning of Venice but has always been the business centre of the lagoon city. All major trading houses and banks are located around the Rialto Bridge and merchants from near and far brought their goods here for selling and further transport. Even today the largest and most important market in Venice takes place in Rialto. Except on Sundays you can choose from a huge range of fruit, vegetables, fish and other goods – an experience that you should not miss.
Accessibility
Landing stage: Rialto