Pasta e fasoi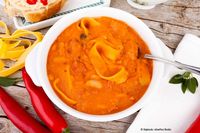 Pasta e fasoi
Pasta e fasoi
Noodle soup with red beans
Don't miss tasting pasta e fasoi (also called pasta e fagioli) on a trip to Veneto. A thick noodle soup with big red beans, it is filling and delicious.
Ingredients (4 servings):
800 g red beans
500 g bacon
100 g tagliatelle
1 onion
Salt
Water
Olive oil
Preparation:
Shuck the beans and chop the bacon and the onion finely. Heat the oil in a pan and fry the bacon and the onions until they are soft. Add the beans and fill the pan with water until the beans are covered. Cook for 2-3 hours on low heat until the beans are tender.
Add salt, then remove half the beans and puree them. Put the puree back in the pot and boil it again. Add the tagliatelle and cook until they are al dente. Add more salt to taste and serve.