Cities and destinations in Veneto
Travelling and exploring the Veneto region
Veneto offers a wide range of impressive sights, romantic spots and attractive destinations to its visitors, from the lagoon city of Venice through Padua, Verona, and miles of sandy beaches to the rugged mountains of the Dolomites. Extensive ski resorts, magnificent hiking trails, sloping foothills and vineyards, beautiful lagoons and lakes, busy beaches and historically important cities and places – the seven provinces of the Veneto region have countless attractions to offer. You should take at least a few days' time to see all of the beauty of this wonderful region.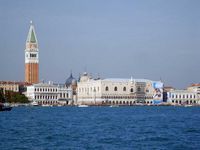 Venice from seaside
Experience and explore Veneto
Veneto and its seven provinces offer plenty of great attractions for travellers to Italy that make it well worth planning a trip to the region of the former Doge Republic of Venice. In addition to the numerous tourist attractions and sights, there are also many sporting activities that you can experience in Veneto. From skiing, hiking and climbing in the mountains, to hours of cycling through the plains and hills, to water sports and relaxing beach holidays on the Adriatic coast and Lake Garda, sports enthusiasts will find everything their hearts desire.
7 provinces – 7 destinations
Whether you are planning a sightseeing trip through the cities of Veneto, or a beach or sport holiday, hardly any other region offers as many different leisure options as Veneto. You will find excellent wine and delicious dishes in all seven provinces. Those who want to discover the Dolomites region should stay in Belluno. Beach lovers and culture enthusiasts can visit Venice and Verona. In Treviso, Vicenza, Padua and Rovigo you can experience long bike trips through the varied landscape and admire the famous Palladian villas and – if you are lucky – enjoy a degustation in one of the numerous wineries.
Interesting cities, attractive destinations and inspiring sporting activities are waiting for you to discover them.