Journey to Veneto
Enjoy and experience Veneto
Veneto is one of the most diverse regions of Italy and it offers its visitors beautiful contrasts, breathtaking landscapes and cultural treasures. From the jagged peaks of the Dolomites to the beaches of the Adriatic sea and the lagoon city of Venice, from winter sports in Cortina d'Ampezzo to water sports in the Lake Garda or the Adriatic sea, from the shopping malls and shopping streets of the major cities to the historical and cultural sights of Venice, Verona and Padua – Veneto contains pure opposites. Because of this, Veneto has an incredible wealth of sights to offer, which completely charm and fascinate its visitors.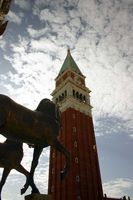 St. Marks Campanile
Veneto – land of contrasts
Veneto – a land of contrasts and scenic tourist attractions in northern Italy. Anyone who is planning a trip to Veneto can look forward to both a sporting and a culturally interesting stay. From the charming ski and hiking region of the Dolomites, to the sandy beaches of the Adriatic sea or the beautiful bays of Lake Garda, to the culturally and historically significant cities of Venice, Verona, Vicenza and Padua – Veneto truly offers something for everyone. The main attraction in Veneto is, of course, Venice – but Veneto is much more than just the area around the famous lagoon city. Geographically, economically and culturally, the region attracts travellers with its natural diversity.
Art and history – an unforgettable journey to Veneto
The history of Venice and the Veneto region reads impressively. Even in the Middle Ages, the city of Venice rose to great power. While most cities in Veneto voluntarily joined them Venetian empire, Padua and Verona had to be conquered first. The rise of Venice to a great naval power and its influence throughout the Mediterranean gave the region – in addition to the legacy of the Romans – many important art treasures and achievements, which can still be admired in the whole county. Two of the most famous Venetians, Marco Polo and Giacomo Casanova, conquered the world and its women with their voyages and charm.
A culinary journey to Veneto
A culinary journey to Veneto also has much to offer. The traditional cuisine of the region is based on rice and polenta. Polenta is the most popular side dish and is served with many meals. But the Venetian wines are also impressive. Bardolino and Valpolicella are not only popular in Veneto, but have gained fame throughout Europe. Also very famous is another drink of Veneto: Prosecco, which is grown and produced in the county.
There's more than one reason to plan a trip to Veneto to experience the beauty of this diverse region for yourself.