Grado
Beach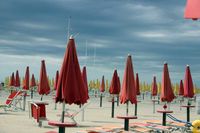 Umbrellas on the beach
Grado
Popular lagoon city in Friuli
The way to Grado is quite impressive in and of itself when you are driving along the miles-long dam by the lagoon in your car. The city itself has a lovely old town centre and has developed into a modern resort with a lot of flair. While Grado was used in Roman times only as a port for the nearby Aquileia, at the time of the Austrian Habsburgs it has become a popular spa resort for aristocrats from all over Europe. Thermal baths and spa treatments are still very popular in Grado today, but Grado is, first and foremost, a popular seaside resort in the northern Adriatic. The long Spiaggia Principale, a mile-long sandy beach, extends from the centre to the east and is completely covered by public and private swimming areas. The extremely gently sloping beaches are also ideal for families with children. The easily accessible Costa Azzurra beach is located to the west of the historic centre and is usually overcrowded in summer.
Attractions in Grado
Do not miss out on a stroll through the historic centre of Grado. The charming narrow streets have, despite the holiday crowds, a lot of flair, and the many cafes all around invite visitors to enjoy a short stopover. The church of S. Eufemia is worth seeing. The large brick building from the 6th century is completely covered inside with a splendid mosaic floor. The Roman sarcophagi and the baptistery with its hexagonal font are also worth a look. The slightly smaller church of Santa Maria delle Grazie a few steps further was also formerly paved with a mosaic floor. The floor is still in the church but is underground, and it is only partly visible through a grate. Continue west and you will reach the Piazza Duca d'Aosta with its pretty covered market hall. From here you can walk along the dam, which protects Grado from the open sea. In the summer months the dam is of one of Grado's most popular promenades. Near the eastern end of the dam on the Piazza Biagio Marin you will find the excavation of the Christian Basilica del Campo with its beautiful mosaic floor and adjacent cemetery.
To the north of the historic centre lies the picturesque harbour. It is connected by a canal with the lagoon of Grado and is the scene of a lively fish market every morning. Pleasure boats in the lagoon and to the small islands around start daily from here.