Economy and tourism on the Adriatic Sea
Tourism as a driving force in the region
Hardly any other region of Italy is so dominated by tourism as the coastal regions of the upper Adriatic. In the main seaside resorts of Grado, Lignano, Bibione, Caorle, Jesolo, Marina di Venezia and on the Isola Albarella, veritable hordes of tourists crowd the beaches year after year – and this despite the fact that the region struggled with significant pollution of the beaches and a lack of infrastructure in recent years. Apart from tourism, small businesses, fisheries and agriculture, as well as heavy industry and textiles, form important pillars of the economy in the Veneto and Friuli regions.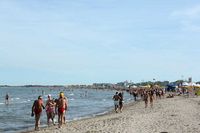 Busy beach life in Chioggia
Tourism on the upper Adriatic Sea
For decades, tourism has been the main source of revenue for the regions of the upper Adriatic. The beautiful long sandy beaches exert a magnetic attraction for tourists from all over Europe. Germans and Austrians in particular bustle about mainly on the beaches and in the hinterland, thus helping the beach region to earn its inglorious nickname "Teutonic Grill". But times were not always so rosy for the tourist operators in Veneto and Friuli. Neglect of cleanliness and lack of environmental awareness, as well as poor infrastructure led to pollution of the beaches which meant that the all-important holidaymakers stayed away. The regions along the Italian Adriatic coast, however, have learned from their mistakes of the past, and so they once again enjoy a lively tourist influx and many guests along the beaches of the upper Adriatic.
More economic pillars of the Adriatic region
The season along the Adriatic coast lasts about 4 months – a relatively short period in which to earn an annual income. Many workers in the tourism sector therefore have different jobs in winter. Fishing plays only a minor role – a main reason for this is the overfishing of the Adriatic – and fish and shellfish farms operate only in a few coastal cities. Around Venice the heavy and petrochemical industries play a significant role. The location directly in the lagoon of Venice is environmentally dubious, and we can only hope that this will not bring more serious environmental problems. Other important sectors in the Veneto region are agriculture – especially fruit and vegetables – and the textile industry. Famous fashion brands such as Benetton, Diesel and Replay are located in the Veneto region. Friuli-Venezia Giulia on the other hand can rely on shipbuilding, home appliances and the furniture industry as additional economic sectors.