Climate, seasons and weather at the Adriatic
The best season at the Adriatic Sea
The upper Adriatic coast has a very Mediterranean feel and the climate is characterised by warm, dry summers and relatively mild winters. Nevertheless, the swimming season begins quite late in mid to late May and ends early in September. Before and after this period it is again relatively cool. Beach lovers should take the summer months to travel to the region. The weather on the Adriatic Sea is very good – 9 days of rain per month in winter and 5 in the summer are more than acceptable.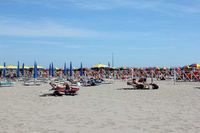 Beach holiday in Rosolina Mare
Beach holiday and perfect weather: the Adriatic Sea as a tourist destination
Good food, beaches, the sea and radiantly beautiful weather – a typical holiday on the Adriatic Sea! Indeed, the climate of the Adriatic feels quite Mediterranean. Mild winters and warm dry summers guarantee a perfect beach holiday. With about 5 days of rain per month in summer and 9 in the winter you can look forward to getting used to a largely rain-free stay. The average summer temperatures range from 26 to 30 degrees and water temperatures are almost 26 degrees, which is equal to the conditions in a bathtub. However, the swimming season lasts only from mid or late May to mid/late September and is therefore relatively short. Before and after this time it is also quite cool at the upper Adriatic.
The best time to travel to the Adriatic Sea
Because of the air and water temperatures, the summer months from June to early September are ideal for a beach holiday at the upper Adriatic. During this time tourists are to be found all along the beautiful beaches. Especially around the 15th August it is important to remember that half of Italy is on holiday and therefore also relaxing on the beach. Many of shops are closed in this period, but normally not in the tourist areas. In the cities and towns inland this is completely possible. In winter, many tourist strongholds are relatively dull and deserted. Only Venice manages to draw appreciable numbers of tourists throughout the year, and with the Carnival of Venice the city offers an absolute highlight in winter.