Caorle
Beach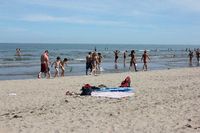 Bathing pleasure
Caorle
Former lagoon city and holiday paradise
Similar to Venice, Caorle was originally built on stilts in the lagoon. Economically and culturally it was as famous as its southern neighbour. The importance of Caorle was broken only after conquest by the Venetians. At the beginning of the 20th century the canals were abruptly filled in – the current pedestrian streets lead exactly along the former rivers. Today Caorle is probably one of the most beautiful cities on the northern Adriatic coast with beautiful winding streets, colourful houses and a historic old town. On either side of the city there are miles of beautiful sandy beaches that attract many tourists each year to relax and swim. Despite numerous hotels and holiday homes, Caorle has preserved its own charm and offers a great alternative programme away from the beach.
Attractions in Caorle
Caorle's highlight is the beautiful Romanesque Cathedral of Santo Stefano from the 11th century. The magnificent building, including the free-standing bell tower, testifies to the importance of Caorle in the early Middle Ages. Inside there are numerous frescoes and oil paintings as well as a Byzantine "Pala d'Oro" above the altar. To protect Caorle from the sea, wind and waves, a wide dam, which is considered Caorle's main boulevard, was erected. The large rock in front of the dam was transformed into sculptures by young artists. You can therefore discover many different forms and faces of numerous fantasy and animal creatures during a walk. At the western end of the dam is the beautiful church of Madonna dell'Angelo.
Surroundings of Caorle
The Valle Vecchia – an uninhabited coastal area – is located to the west of Caorle in the middle of the lagoon. Only a car park and a trail of the local flora and fauna can be found in the 800-hectare area. Conservationists have successfully foiled the Venetian government's plans to set up public toilet facilities and sun umbrellas. For all those who are looking for a little rest away from the hectic holiday hustle and bustle around the lagoon, this is the ideal place for relaxing and walking. You can reach the Valle Vecchia via a turnoff from the road to San Michele al Tagliamento.