Chioggia
Beach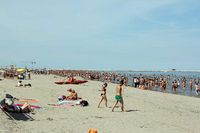 Bathing pleasure
Chioggia
Busy fishing town south of Venice
The town of Chioggia is located on the southern tip of the lagoon of Venice. While the old town of Chiogga is located on an island in the lagoon, the new town of Sottomarina is upstream on a headland. The bustling city is one of the largest fishing ports on the Adriatic and thus features one of the most important fish markets. Market criers and fishermen try to outdo each other here with their wares – an experience that you should make sure not to miss. The fish market can be found in the Via Giovanni Poli on the Isola dei Cantieri – a small island east of the old town.
Attractions in Chioggia and surroundings
Chioggia itself is divided by a wide main street, the Corso del Popolo, from which narrow side streets branch off. On the map this strange street layout looks like the skeleton of a fish. Long arcades, low pretty houses and the beautiful Cathedral of Santa Maria Assunta give the town a very special atmosphere and make it definitely worth a visit. At the southern end of the old town is the Museo Civico della Laguna South, which contains some beautiful exhibits from the Roman era to modern times.
Beach holiday in Chioggia
The new town of Sottomarina on the headland can be reached by a long bridge. It offers little to see, but plays an important economic role in Chioggia. Behind the thick walls of hotels are a beautiful sandy beach and numerous swimming facilities, as well as restaurants, bars and restaurants. At the northern tip of the headland, there are also some campsites. During a holiday in Chioggia, you can enjoy the benefits of a larger city nearby. Boat trips to Venice or to the southern Po Delta are possible from here as well.