Trip to San Marino
Visiting the oldest republic of the world
Being the oldest republic of the world, San Marino, which is located between the Italian regions of Emilia Romagna (province of Rimini) and Marches (province of Pesaro and Urbino), not only attracts visitors from the bordering and enclosing Italy for day trips or longer stays. With its location at Monte Titano, the hilly countryside is perfect for hikes or walks. The Mediterranean, slightly protected climate provides for pleasant stays in immediate proximity to the beaches of Rimini all year or serves as basis for trips to the heart of Italy. San Marino itself has a lot to offer as well.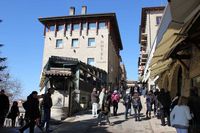 San Marino
Contested history with sacred origin
According to myth, San Marino was founded by Saint Marinus, who had to flee on Monte Titano due to Diocletian's edicts against the Christians, in 301 AD. Over the course of its history the oldest republic of the world was highly contested, yet managed to retain its independence to the greatest extent. In 1461 the republic defended itself against the Malatesta family from Rimini, and managed to gain the castles of Fiorentino, Montegiardino and Serravalle two years later after the war had ended, while Faetano voluntarily joined San Marino – the republic's last territorial expansion to this day. Several castles are evocative of the Malatesta era. San Marino was in the hands of Cardinal Alberoni Romagna for four weeks in 1739, yet was freed thanks to papal support. San Marino offered shelter to approx. 100,000 refugees in the Second World War.
Popular tourist destination San Marino
These days, San Marino is a particularly popular tourist destination. More than two million tourists a year, 85 % of which are Italian, pay a visit to the region. Various fortifications, Monte Titano near Borgo Maggiore, or the ample strip malls in Seravalle impress tourists just as much as the likeable souvenir stalls or the sweeping stone pine forests. The influence of the Malatesta and other dynasties is still visible in the eastern and southern areas of the country with feudal structures, castles and churches.
There are numerous reasons to embark on a journey to San Marino and its multitudinous communities. The republic surprises and impresses with all sorts of treasures.