Serravalle
Place of Interest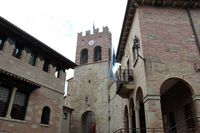 Castello di Seravalle
Serravalle
San Marino's conurbation
With more than 10,000 inhabitants on an area of 10.53 km², Serravalle is both the largest and most densely populated community of San Marino. Its largest city is Dogana with approx. 7,000 inhabitants. Serravalle is located in direct proximity to Rimini, is home to a plurality of significant industrial and commercial areas, and is the site of the 7,000-seat Stadio Olimpico, simultaneously venue of all matches of the San Marino football national team and home stadium to the country's only professional football club, San Marino Calcio, currently playing in the third Italian league. A great number of parks, numerous department stores and restaurants attract tourists from all over Italy.
History and sights
Serravalle's principal town was originally known as Castrum Olnani (village of elms or village of wild manna-ash). Its contemporary name is derived from the Italian words serra (mountain range) and valle (valley). Serravalle was originally ruled by the Malatesta family from Rimini. After the end of the war in 1463, Pope Pius II awarded the territory to San Marino. The former castle of the dynasty, the Castello dei Malatesta or Castello di Seravalle in the historic city centre, is evocative of this era. The name of the city square can be traced back to Giuseppe Bertoldi, a student of Dante Alighieri, who was born here in 1350. Furthermore worth seeing are the Chiesa di Sant'Andrea, built in 1824 and renovated in 1973, and the automobile museum Collezione Maranello Rosso in the district of Falciano.
Museums Maranello Rosso: Museum Ferrari and Museum Abarth
Falciano near Serravalle is a paradise for car aficionados. Strada di Censiti is home to two fascinating museums fully devoted to horsepowers. Enzo Ferrari once said about the buildings located at the foot of Monte Titano: "If I turn back from the peak of the mountain, I can see the many faces and names that have accompanied me along the way." There is no better way to sum up both permanent exhibitions. The Ferrari museum contains 25 vehicles of the noble make from the fields of racing cars, Formula 1 cars, road vehicles, and prototypes. Furthermore, the life and works of Enzo Ferrari are documented with numerous documents, previously unreleased photographs and information from his life. Exclusive Ferrari test drives are possible with previous registration.
The Abarth museum is completely focused on the scorpion. Carlo Abarth's genius is reflected in 40 vehicles from the fields of sports, rally, GT, tourism, and Formula division.