Borgo Maggiore
Place of Interest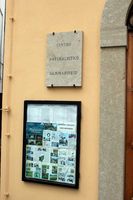 Centro Naturalistico
Borgo Maggiore
One of San Marino's most important marketplaces
Approximately 6,600 inhabitants live in Borgo Maggiore. The village originates from the 12th century and was formerly considered as a mercatale (marketplace). To this day, it remains one of the most important centres of trade in San Marino. A well-attended market takes place every Thursday on Piazza Grande, the main square. Borgo Maggiore is located at the foot of Monte Titano, which is accessible from the capital San Marino by a 1.5 kilometres long cableway.
Places of interest in Borgo Maggiore
A 17th century palace is located on Piazza Grande. The bell tower (Torre dell'Orologio) was built in 1896 according to a plan by the architect Francesco Azzuri. Also located on the main square is the Chiesa del Suffragio ("Church of Suffrage"). It dates back to the 18th century and is dedicated to Saint Antimo, presumably Saint Anthimus of Rome, an early Christian from the times of Diocletian. Furthermore, the modern Santuario della Beata Vergine della Consolazione ("Sanctuary of the Blessed Virgin of Consolation"), which was designed by Giacomo Michelucci in 1958, can be found at the motorway exit. The castle district, the historic centre of San Marino, and Monte Titano were declared World Heritage Site by the UNESCO on 7 July 2008.
Museum of Natural History
Affiliated to the Centro Naturalistico Sanmarinese, the Natural Scientific Centre of San Marino, the Museum of Natural History offers its visitors the opportunity to get to know the San Marinese territory – as well as other territories – more closely. Five dioramas depict true-to-life replicas of San Marino's typical landscape regarding biota and wildlife, habitat, geology, and palaeontology. A plastic representation on a scale of 1:8000 visualises the republic's complete territory. Furthermore, vast collections of different European bird species, amphibians, fish, invertebrates, mammals, fossils, and minerals plus a terrarium and an aquarium can be seen in the museum. The Museum of Natural History is located in Borgo Maggiore on Monte Titano and can be reached by cableway or on foot along Costa dell'Arnella.