Monastery of Neustift
Monastery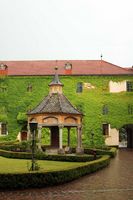 Wonders of the world fountain
Monastery of Neustift
Huge monastery complex near Brixen
Surrounded by vineyards and only a few kilometres away from Brixen you will find the Augustinian monastery of Neustift. The huge complex, with its numerous courtyards, walls, towers and a beautiful church, dates back to the 12th century. The fortifications were added in the 15th century – in the 18th century the monastery was partly reconstructed in baroque style. Even today, the monks of the Augustinian Order residing in the monastery grow their own wine in the surrounding vineyards, which can be tasted in the tavern of the monastery.
Attractions in the monastery of Neustift
When you enter the monastery through the medieval gatehouse, you will immediately see the round Castel Sant'Angelo on the left-hand side. It was originally a chapel and part of the connected Pilgrims Hospice. On the way to Jerusalem, many pilgrims passed through here on their way over the Alps. The monastery of Neustift was therefore a popular stopover before they travelled to Venice and further by ship to the Promised Land. In the 15th century walls and numerous towers were constructed around the monastery due to fear of a Turkish invasion. The so-called Turkish Tower is a reminder of those days.
The library and the garden of the monastery of Neustift
Certainly one of the highlights is the monastery library. The magnificent library in the Rococo style is spread over two floors and contains about 65,000 books, manuscripts and maps. A unique collection in a very unique environment. The library can be visited as part of a guided tour – an absolute must when visiting the monastery complex! In the courtyard outside of the library you can see the wonders of the world fountain. It shows paintings of the Seven Wonders of the World and the monastery of Neustift as the eighth wonder of the world. The monastery garden was recently restored according to historical designs and is now reopened to the public.
The collegiate church
The pictures of all the abbots of the monastery can be found in the atrium of the Prelature, which you can also visit during the guided tour. In the second courtyard the collegiate church stands tall with its imposing Romanesque tower. The original Gothic three-nave church was completely reconstructed in baroque style inside. The elaborate stucco ornamentation and magnificent ceiling paintings are considered to be one of the highlights of the late Baroque. The cloister of the monastery, however, is still preserved in its original Gothic form, and contains some remarkable frescoes and grave stones.