Klausen
Place of Interest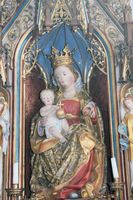 Madonna
Klausen
Old bishop and trade city
Right in the narrow Eisack Valley, at the foot of a mighty rock massif, is the ancient cathedral town of Klausen. It was the original seat of the bishop in the region, before Brixen was raised to the rank of a bishopric. At first glance it appears that the town has been ill-placed, being in the middle of a narrow and often dark valley; yet, a closer look at the town proves that it was easy to defend and served as a commercial centre and toll station for merchants passing through the city, thus providing lucrative trading opportunities for the citizens.
Attractions in Klausen
The old town of Klausen has endured surprisingly well. Many old houses with bay windows, coats of arms and frescoes on the outer walls adorn the townscape. The different styles range from Gothic to Renaissance – only for the typical South Tyrolean is there no place in the narrow streets. However, Klausen offers much flair and is ideal for an idyllic town walk. In the town itself you can find the Apostle Church and the Church of St. Andrew. The monastery and cathedral of the bishop can be accessed via the Säbner staircase.
The Säbner staircase
The Säbner staircase begins on the right-hand side at the end of the main road of Klausen. The long staircase which leads from Klausen to the Holy Cross Chapel is a pilgrimage. On the way up you will also pass, next to Stations of the Cross, the castle with its mighty tower, which watches over the valley. When you are almost at the top you will pass the Notre Dame church, which had been erected by the citizens of Klausen in gratitude for their rescue from the plague. From here you reach the Benedictine monastery and the Holy Cross Church. The origins of the church date back to the 6th century, when the church served as cathedral for Bishop Ingenuin. Later it was rebuilt in late Gothic style and established as a palace chapel in the bishop's castle. Inside there is a magnificent crucifix by Leonhard of Brixen.
Surroundings of Klausen
On the opposite side of Klausen is a former Capuchin monastery, which was inhabited by monks until 1972. Today it houses the town museum and the precious Klausner Loreto treasure – a gift of the last Spanish Habsburg empress to her chaplain from Klausen. Past Klausen, at the entrance of the Val Gardeba Valley, there are the villages of Lajen, Tschöfas, Tanürz and St. Peter. They mark the last German towns before you enter the Ladin Val Gardena Valley. There is also the Trostburg castle, situated above the village Waidbruck, at the entrance of the Gardena Valley. Since the Middle Ages it has overlooked the valley and has always been an important and impregnable bastion of defence. The minstrel Walther von der Vogelweide spent his youth in the castle. An exhibit inside provides information about another minstrel: Oswald von Wolkenstein.