The Dolomites – Italy's most unique mountain landscape
Through the magnificent mountain scenery of the Dolomites
One of the most unique destinations in the European Alps is the Dolomites region, with its rugged and craggy cliffs, unspoilt nature and mountain valleys, whose originality and beauty will fascinate the traveller. The Dolomites in Italy extend over the three provinces of South Tyrol, Trentino and Belluno. The foothills of the Dolomites also extend into the Austrian region of East Tyrol. A holiday in the Dolomites presents a huge range of different possibilities: Sporting activities such as hiking or skiing, culture and tradition in the German, Italian and Ladin mountain valleys and a fascinating mountain world through a journey on the Great Dolomites Road.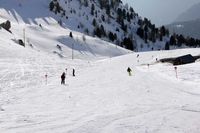 Skiing paradise
Holidays in the Dolomites of Italy
The Dolomites offer travellers and holidaymakers a wide range of different possibilities. From sporting activities to relaxing hours in the beautiful countryside, to a cultural and sightseeing holiday, everything is possible here. In the midst of the gigantic backdrop of the Dolomites, the sports possibilities are indisputably number one among the many attractions. Hiking, climbing, mountaineering, mountain biking and paragliding in summer are as appealing as skiing, snowboarding and snowshoeing in winter. Sports enthusiasts, as well as visitors passing through and those seeking relaxation, will appreciate the natural beauty. Seeing the Sassolungo or the Rosengarten mountain range glowing in the sunset is simply a sight to behold.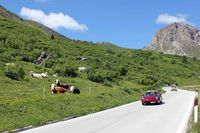 Great Dolomites Road
On the great Dolomites road through the Ladin valleys
Anyone who wants to take in as much of the Dolomites as possible should drive along the Great Dolomite Road from Bozen to Cortina d'Ampezzo. It not only leads through one of the most beautiful regions of the Dolomites, but also offers panoramic views of the surrounding mountains and passes in the heart of the Ladin settlement area. In addition, many attractive destinations are in the area as well: Bozen, Merano, Trento and the outstanding Venetian cities like Venice and Verona. For all of these reasons, the Dolomites in northern Italy are definitely worth the trip.