Mountain climbing and hiking in the Dolomites
The Dolomites as a paradise for mountaineers
The Dolomites in northern Italy are a real paradise for climbers. They are not only famous because of the beautiful scenery – they are perfect for doing sports. The most classic of all sports in the Dolomites is mountain climbing, which was practised very early in the karst peaks. Today countless hikers cavort next to the climbers here. They enjoy the nature and celebrate the fantastic panorama while strolling through the pastures and meadows along the old trading routes of the Ladin. Whether hiking, climbing or just a cultural holiday – a visit to the Dolomites is definitely worth it!
Mountaineering and climbing in the Dolomites
Mountain climbing has long been the main sport in the Dolomites. Early on the karstic and rugged mountain peaks attracted mountain enthusiasts who attempted the climb. Even the famous mountaineer Reinhold Messner was born in a Dolomite valley, the Villnöss Valley, and learned how to climb there on the Geisler peaks. In the eastern Dolomites there are real mountain guide dynasties who were already leading tourists to the mountains of the Dolomites at the time of the Austrian Habsburg empire. Nowadays the mountain sports have become more varied. Next to the classic mountaineers, it is above all hikers and climbers who know how to appreciate the advantages of the Dolomites. In recent years many climbing routes with different levels of difficulty have been created, which allow less experienced climbers to tour as well.
A detailed description of the climbing and mountaineering routes can be found at the various tourist information kiosks. On site and at ZAINOO – when available – there are also additional tips and recommendations.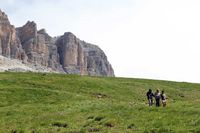 Hiking around the Passo Pordoi
Hiking in the Dolomites
It is no longer a secret – hiking in the Dolomites has become a real highlight in recent years. An impressively large network of hiking trails runs across the Dolomite valleys and offers excellent opportunities for hiking and walking. Those who want to enjoy the magnificent nature walk in the mountains will find the right place here. A good infrastructure of protection huts and pastures offer good food and accommodation right in the mountains. In remote areas – especially in the southern Dolomites – you should be careful and inform yourself in advance about the existing shelters for your overnight stay.
On ZAINOO you can find not only a detailed description of the hiking region of the Dolomites, but also many helpful tips, as well as hotels and accommodations in the Dolomites. The local tourism boards also have information about the different paths and trails.