Brixen
Place of Interest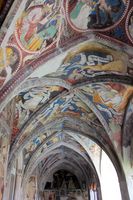 Cloister
Brixen
Bishop town in the upper Eisack Valley
Definitely worth a visit is the beautiful town of Brixen in the upper Eisack Valley. Brixen is located on the north-western edge of the Dolomites and entices with its really unique flair. Around the cathedral in the historic centre there are inviting and well-preserved town houses, numerous restaurants, cafes and shops. Religious buildings dominate the townscape, as to be expected from a diocesan town. The landmark of the town and also the main attraction is the Cathedral of Brixen. The originally Romanesque building has a Gothic high altar and was completely reconstructed in Baroque style. Do not miss the ceiling painting "Adoration of the Lamb" by Paul Troger inside the cathedral and the late medieval frescoes in the cloister.
Attractions in Brixen
On the left side of the cathedral is the old cemetery with its ancient grave stones. Among the tombstones there is also a memorial to the poet Oswald von Wolkenstein. The adjoining St Michael's Church is also entirely in Baroque style, but in its origins it is one of the oldest religious buildings in the region. Also worth seeing is the two-storey baroque library of the seminary in Brixen. The bishops of Brixen reside in the Imperial Palace in the town centre right across from the cathedral. Here it is worth visiting the Diocesan Museum with its collection of carvings, winged altarpieces, panel paintings and cribs.
The old town of Brixen still has a number of old houses with typical passageways for this region. A walk along the arcades or on the big ditch to the Säbener gate offers a splendid medieval atmosphere and is a good contrast to the rural villages of the Dolomites.
Surroundings of Brixen
Directly behind the town lies the mountain of Brixen, the Plose (2561 m). Many hikers who want to enjoy the views of the Dolomites and the surrounding valleys come here in summer. In the winter the ski resort Plose Brixen attracts guests to the mountain. Immediately after Brixen the small Lüsner Valley is located under the Plose. The inhabitants of the only village in the valley still live mainly from agriculture. From the Lüsner mountain pasture, you have a magnificent view of the Dolomites, which is, particularly in the summer, the main reason for numerous hikers to visit the Lüsner Valley.